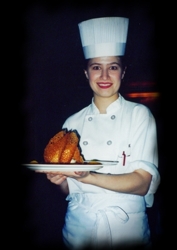 Back to more pictures of desserts

Shopping
Marscapone Cream over Pistachio Dacquoise,
Orange Tuiles and Bittersweet Grand Marnier Orange Sauce,
Orange Segments and Finely Chopped Pistachio Garnish.
Dessert created and photo taken by Renee Shelton,
Ritz Carlton Laguna Niguel.
Shown right Renee and her dessert. She created it for a special family dinner.
Copyright © 2005 Renee Shelton.