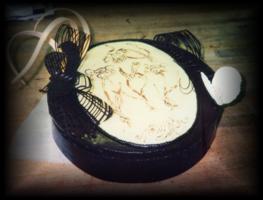 Back to more pictures of desserts

Shopping
Floral Topped Chocolate Box
Chocolate Box is assembled as follows:
Using a plastic mold, tempered couverature is poured inside, let to set, then unmolded.
Any perfectly smooth and scratch free shiny plastic container with lid could be used.
For ultimate smoothness and shineness, the plastic container must be without any
blemishes or scratches, and cleaned scrupulously but carefully, and dried carefully with a lint
free cloth, buffing out any waterspots that may have arisen.
Top of box has a vingette of daffodils. A cocoa powder and cocoa butter paste was made
and painted onto kneaded and rolled out white chocolate plastique. Decorations on the
box piped on with a parcment paper cornet filled with tempered dark chocolate couverture.
Chocolates and Mignardise include:
Nougat Montielimar
Traditional nougat recipe with whole hazelnuts, pistachios and almonds.
Chocolate Dipped Griottines
Brandied cherries carefully drained and dipped with a small round chocolate
fork into tempered couverature.
Hand Made Peppermint Patties
Hand made fondant is made. Fondant begins as a hot sugar syrup poured onto marble
and worked in a figure-eight pattern with a heavy wooden spoon until the mass has
crystallized into a smooth and even mixture. It is then let to rest, then kneaded with
peppermint flavoring, rolled out and cut with small round cutter,
then dipped in tempered couverature with a chocolate fork. After they are
placed onto special chocolate plastic sheets, or parchment paper if those are not
available, the chocolate fork is used to immediately touch the top of the
chocolates to decoratively mark the tops. Click here for a homemade fondant recipe.
Apricot Ganache and Milk Chocolate Ganache Filled Diamond Chocolates
Special chocolate molds are coated with a thin layer of tempered chocolate and let
to set. Apricot ganache made with apricot purée, peach shnapps, cream and dark
chocolate, and a milk chocolate ganache made from quality milk chocolate and cream
is made and let to come to proper temperature (let set until cool yet still liquid).
This is then poured into plastic squirt bottles, used to nearly fill the chocolate coated molds.
After the ganache has set and firmed, a final layer of tempered chocolate is used to
fill the molds, essentially sealing the flavored ganache. This is then placed in the cooler
for a couple of minutes to set the chocolate, and for easy release of the chocolates.
The cool temperature helps to harden and contract. They are then immediately taken to
the work bench and inverted, unmolding all the chocolates perfectly. Note: do not leave
the choclates in the cooler for very long or they will start the sweat, collecting moistur.,
The molds must be perfectly scratch-free for very easy unmolding and a perfetct shine.
On very cool days in the pastry kitchen, I have successfully created chocolate molds without the
use of the cooler, but some pastry professionals swear by the cooler or chiller and always
use them in all cases.

Chocolates and Sweets created along with chocolate box by Renee Shelton.
Photo taken by Renee Shelton.
Copyright © 2005 Renee Shelton.