---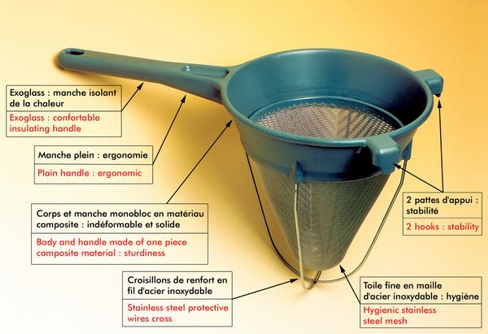 ---
Name: Fine Mesh Strainer - Chinois
Description: A chinois is a fine mesh strainer used to capture solids of a liquid, such as a sauce, flavored vinegar, a sorbet or ice cream base, custard mix, and more. When chinois strainers are used, the result is a very smooth liquid. It has a conical shape with a handle, and some models have protective wires around the end of the cone. The fine mesh of these strainers are typically made of stainless steel.


How to Use It: Liquid is poured into the cone and it is worked out through the end by using a ladel, spoon, or pestal, pressing on any solids to extract all the liquid.


Related to: A china cap.


Image above: I used a chinois to strain a prickly pear and mango sorbet before processing.
Below is a video on how a chef uses a chinois to strain a butter sauce.
Copyright © 2004-2013 Renee Shelton.
All Rights Reserved.
Equipment image sources: Manufacturer's we retail from. Image of sorbet base by Renee Shelton.
Email us for product information and purchase.

Recipes Index
_______________________
Cake Recipes
Frosting, Buttercream,
Icings, Glazes
Cookies, Bars & Biscotti
Confections, Truffles, Candy
Pies, Tarts, Tartlets
Crusts, Shells, Bases
Quick & Yeast Breads
Desserts
Basic Recipes
Frozen, Ice Creams, Sorbet
What the...?
Savory Items for Tea Menus
Industry Recipes, Quantity Scale
Index of Recipes