Fondant: Poured and Rolled
By Renee Shelton
---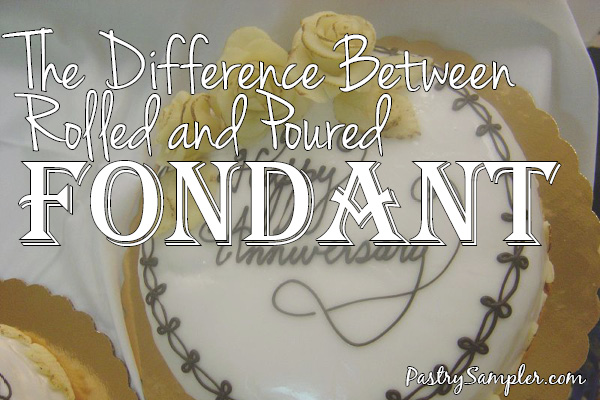 Most everyone knows about rolled fondant - it's that clayish, play-do-y stuff that can be rolled, shaped, and formed into just about anything. Poured or regular fondant is different. It is very stiff when cool, but when heated becomes a liquid that can poured or used for dipping, and that sets right back up after it is cooled.
Below are recipes for the two different kinds of fondant. The first is the poured or standard type. Use this type used for the chocolates with the fruit creme fillings and for peppermint patties, and is the one used to glaze petit four frais and eclairs. It can be kneaded and colored as desired when cold. For peppermint or other flavored patties, flavor the fondant, roll it out, cut in circles, and then dip.
This fondant contains just two ingredients besides water: sugar and glucose. Despite the simple list of ingredients, it does require one thing from you: elbow grease. You have to put in some work for this type, but it is worth it.
The next two recipes are for rolled fondant. This is the fondant that cake decorators use to cover cakes with. It, too, can be colored and flavored, but is intended for covering the outside of something, rather than being used as a confection filling.
Note when making the marshmallow fondant - use Kraft or another 'name brand' mini marshmallows. I've made this recipe tons of times, and each time I use a store brand, it turns out more yellow, and/or not as smooth as the fondant made with a name brand marshmallow. Store brand powdered powdered sugar is fine, but don't scrimp on the marshmallows. :)
---
2 cups sugar
2/3 cup water
1 tablespoon glucose (no substitutions)
Prep: Sprinkle a large slab of marble or a large, heavy, smooth surfaced baking sheet with cold water.
Over medium heat, stir the sugar, water, and glucose in heavy saucepan gently until the sugar has dissolved. Increase temperature and bring to boil. Cover pot and boil for three minutes. Remove lid and place in candy thermometer. Continue to boil until the temperature reaches 240°F, soft ball stage. Remove from heat and immediately dip the bottom of the pan into large tub (or sink) of cold water to stop the cooking.
Pour this hot syrup onto the prepared marble and leave to cool for a couple of minutes. Using a damp metal spatula or metal scraper, lift the edges of the syrup and fold it back into the center. Keep doing this (folding the edges to the center) until the mixture turns glossy, and is pale yellow in color. Then use a heavy wooden spoon to work the mixture in a continuous figure eight for about 5 to 10 minutes. Keep doing this action until the mixture turns white, is crumbly, and stirring with the spoon becomes extremely difficult.
Moisten hands and knead the fondant for about 5 to 10 minutes, or until the mixture feels moist and is perfectly free of lumps. Use the metal scraper to lift the fondant if it sticks to the surface. Form the fondant into a ball and place it in on a moistened plate. Cover with damp cloth, and leave it in a cool place for 12 hours to ripen. Dust your work surface with sifted powdered sugar, and place the fondant on that. Press it out flat. If coloring, make slits in the fondant and drop the coloring into those slits. Knead well and use as desired. If this is to be melted, melt very slowly over low heat. The shine will be lost if it is too hot.
_________________________
1 1/2 teaspoons plain gelatin
1/8 cup water
4 cup powdered sugar
1/4 cup light corn syrup
1 1/2 teaspoons glycerine
Vegetable oil, for oiling hands and spatula
Sprinkle gelatin over water in a small saucepan. Let sit for 5 minutes, then place pan over low heat. Stirring frequently, heat to dissolve gelatin. Cover saucepan to keep warm.
Place the sugar in a large bowl and make a well in the center. Add corn syrup and glycerine; do not mix in. Pour the warmed, dissolved gelatin into the well over the top of the ingredients, and mix in with a lightly oiled rubber spatula or wooden spoon.
Mix until the dough is too stiff to stir. Because the dough will be very sticky, oil hands with a small amount of oil. Knead dough until all of the sugar is incorporated.
Transfer to a lightly oiled surface and continue to knead until smooth and satiny. This will be the texture of clay. If the fondant is too dry, add in a few drops of water and if it is too wet, add in a bit more of powdered sugar. Shape the fondant into a ball, flatten slightly, and wrap well in plastic wrap. Let rest for 20 minutes before rolling and using.
_________________________
Rolled Fondant (Marshmallow Fondant)
1 16-oz package white mini marshmallows
3 to 5 tablespoons water
2 pounds powdered sugar, sifted
1/2 cup vegetable shortening (the regular stuff, not emulsified)
Brush the inside of a large, microwavable bowl with shortening. Add in the bag of marshmallows and pour in 3 tablespoons of water. Microwave 30 seconds, and stir. Repeat every 30 seconds until the marshmallows are melted.
Rub your work surface well with shortening. Place the amount of shortening (plus more if needed) within easy access to you once you start working.
Place almost all of the powdered sugar (3/4 the amount) into the bowl, and stir it in.
Rub your hands with shortening, and turn out the mixture onto the greased work surface. Begin kneading until the fondant is smooth and elastic, about 8 to 10 minutes. As you are kneading it, re-grease your work surface and hands as needed. Also, if the fondant is too soft, add in the remaining powdered sugar, and if it seems too dry, add in a bit of water, about 1 teaspoon at a time until it reaches the right consistency for you.
Wrap the fondant well, and chill overnight. When ready to use, let it come to rest at room temperature for 30 minutes before kneading. The fondant can be colored as desired.
---
References used:
The first fondant recipe is from my files, written down from an unknown source.
Hirsheimer, Christopher. Saveur. "Fruitcake Weather: 'Tis the season for a taste of memory, intimacy, and pure sensual pleasure." Nov./Dec. issue, 1996. No. 15. P.124.
Marshmallow fondant recipe adapted from Wilton's recipe.
Renee Sheltonon
---