The Famous Marshmallow
From the Question: I saw 'guimauve' on a menu. What is it?
By Renee Shelton
---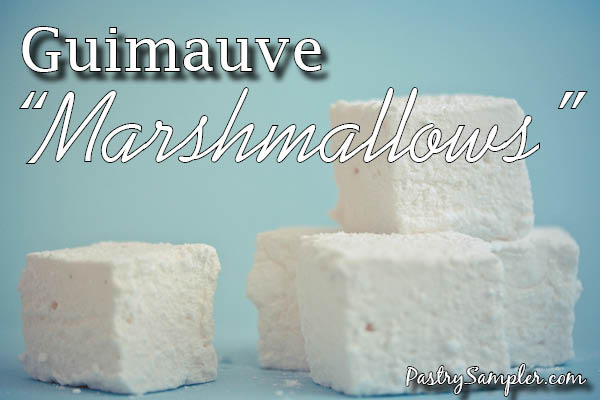 Guimauve, as defined in Larousse's French-English Dictionary, is marshmallow. In the Larousse Gastronomique 1988 edition, Marsh Mallow is a medicinal plant. The root of the Altheaea offecinalis is sweet tasting and the "mucilage from the roots was formerly used to make the spongy sweets known as marshmallows". (657) Interesting info.
You can find modern recipes with sugar/gelatin or sugar/egg white bases. Those recipes that use egg whites, use dried egg whites to make a 'safe' meringue based marshmallow.
The recipes below incorporate sugar with other ingredients to recreate the delicate, white fluffs that come to mind when thinking of "marshmallows." I'm also including a link to a recipe in French, for european-style marshmallows, and the list of ingredients include egg whites.
A good tip for coloring and flavoring marshmallows from Homemade Candy, a book referenced below,
"Tint the gelatin mixture while heating - pale green, pink or yellow - if you wish. Roll green candy in chopped nuts, pink in flaked coconut, yellow in toasted coconut and white in nuts or coconut. You can vary the flavorings if you wish. Instead of vanilla use almond, peppermint, orange, or lemon extract."
---
Homemade Marshmallows
This recipe is adapted from Homemade Candy, a book made by the food editors of the Farm Journal. This is a recipe for a sugar/gelatin based marshmallow. It is more simplified from the one from Wilton (below), and doesn't require the use of corn syrup.
2 tablespoons unflavored gelatin
3/4 cup water, cold
2 cup sugar
1/8 teaspoon salt
3/4 cup boiling water
1 tablespoon vanilla
Powdered sugar, as needed
Chopped nuts or toasted flaked coconut for coating.
Prep: Dusting a 8" square pan with powdered sugar.
Soften the gelatin in the cold water for 5 minutes. Dissolve by heating gently.
Combine the sugar, salt, and boiling water in a heavy saucepan. Bring to a boil and cook to soft crack stage, 280 degrees F.
Pour the hot syrup and gelatin mixture together in a heatproof mixing bowl, and beat on low speed for 3 minutes, then increase speed to medium and beat for another 10 minutes, or until the mixture is fluffy. Add in the vanilla and pour this into the prepared pan.
Cool for 30 minutes until set, then cut into squares with a moistened knife. Roll in nuts or coconut if desired, or simply powdered sugar. Store in an airtight container in the refrigerator.
_________________________
Marshmallows Using Egg Whites
This recipe is adapted from the wikibooks confectionery cookbook section, and it uses egg whites. NOTE: if you want to make this a 'safe' recipe (since the egg whites are not cooked), then use reconstituted dried egg whites equivalent to 2 large egg whites.
Powdered sugar, as needed for coating, dusting, and tossing
2 tablespoons plus 2 1/2 teaspoons unflavored gelatin
1/2 cup cold water
2 cups sugar
1/2 cup light corn syrup
1/2 cup hot water, about 115 degrees F
1/4 teaspoon salt
2 large egg whites (see note above)
1 teaspoon vanilla
Prep: Oil the sides and bottom of a 13x9x2 inch baking pan, and then dust it well with powdered sugar.
Sprinkle the gelatin over cold water in the bowl of an stand up mixer, and let bloom.
Stir the sugar, corn syrup, hot water, and salt together until dissolved in a heavy saucepan over low heat, stirring as needed to dissolve. Increase heat, without stirring, until the thermometer reaches 240 degrees F. Remove from heat, and pour into the gelatin mixture, stirring until dissolved.
On high speed, beat mixture until it is white, and nearly tripled in volume. In a separate bowl, beat the egg whites until they form stiff peaks. Beat whites and vanilla into the sugar mixture until combined, and pour this into the prepared pan. Sift about a quarter cup of powdered sugar over the top. Chill, uncovered up to a day, until firm.
Loosen sides, and flip onto a cutting board. Cut into desired sized squares, and toss with powdered sugar.
_________________________
Cooked Marshmallows
This recipe is adapted from The Complete Wilton Book of Candy. This recipe is a sugar/gelatin based marshmallow.
2 tablespoons plain gelatin
1/2 cup water, cold
2 cup sugar
3/4 cup light corn syrup
3/4 cup water, hot
2 teaspoons vanilla
1/4 cup powdered sugar
1/4 cup cornstarch
Prep: Lining an 8" square pan with parchment.
Sprinkle the plain gelatin over the cold water in the bowl of a stand-up mixer, stir, then let set while the sugar syrup is coming to temp.
Combine sugar, corn syrup, and the hot water in a heavy 3-qt. saucepan. Place over high heat and stir until the sugar is dissolved. Wash down sides of pan with pastry brush dipped in water and place candy thermometer in pan. Then without stirring, bring to 245°F or 118°C. Set mixer to highest speed then reduce speed to slowly pour in the hot syrup into the gelatin in a steady stream to prevent the sugar from flying, then resume the high speed when all the syrup is added. Beat for about 15 minutes or until ribbon samples dropped off beaters retain their shape. Add in the vanilla.
Using a rubber scraper, remove mixture from bowl into prepared pan. Make level and let firm overnight at room temperature. Sift powdered sugar and cornstarch together onto a cookie sheet with 1 inch sides. With a damp metal spatula, loosen sides of the marshmallow then turn out onto the powdered sugar mixture. Dampen a paper towel and lay on top of the parchment paper that is on the marshmallow. Leave on a few minutes to help loosen the paper, then peel off. Heap on the powdered sugar mixture, shake off, then cut the marshmallow square into desired width strips using a serrated knife dipped in cold water. Then using a serrated knife, again dipped in cold water, or scissors dipped in cold water, cut into desired squares.
Toss the marshmallows in the powdered sugar mixture and let stand for an hour. Brush off extra powdered sugar and store in airtight container at room temperature. The recipe book states they can keep for up to three weeks at room temperature but are best used fresh.
_________________________
From Recettes et Terroirs online:
Recette: Guimauve
The link above for 'guimauve' is from Recettes & Terroirs, and is in French. I like this one - it is a good recipe using egg whites. Translations are available in different languages via the google toolbar, but be aware that translations are sometimes a little too "literal" and don't make much sense so sift through the procedure in your native language if you can't read in French.
---
References used:
Image credit for the marshmallows above: "Marshmallows: by poppet with a camera via a creative commons license.
"Cookbook:Marshmallow." Wikibooks, The Free Textbook Project. 5 Dec 2013, 15:16 UTC. 22 Feb 2015.
Dubois, Marguerite-Marie, Denis J. Keen and Barbara Shuey. Larousse's French-Engish English-French Dictionary: Two Volumes in One. New York: Pocket, 1971.
Lang, Jenifer Harvey, ed. Larousse Gastronomique: The New American Edition of the World's Greatest Culinary Encyclopedia. New York: Crown, 1988.
Nichols, Nell B., ed. Homemade Candy. Garden City: Doubleday, 1970.
Sullivan, Eugene T. and Marilynn C. Sullivan. The Complete Wilton Book of Candy. Woodbridge: Wilton, 1981.
Recettes. Pâtisseries sucrées: Guimauve. Recettes et Terroirs. Latest update to site: 25 May, 2005. Accessed site 25 May, 2005.
Renee Sheltonon
---