Chocolate Cocoanut Cakes (Coconut Fudge)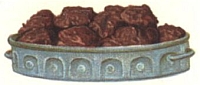 This recipe is from Chocolate and Cocoa Recipes, a little chocolate cookbook printed in 1909.
2/3 a cup of granulated sugar,
1/4 cup scant measure of water,
One cup, less one tablespoonful, of glucose,
1/2 a pound of dessicated cocoanut,
1/2 a pound or Baker's "Dot" Chocolate.
Heat the sugar, water and glucose to the boiling point, add the cocoanut and stir constantly while cooking to the soft ball degree, or, until a little of the candy dropped on a cold marble may be rolled into a ball. Drop, by small teaspoonfuls, onto a marble or waxed paper, to make small, thick, rather uneven rounds. When cold coat with "Dot" Chocolate melted over hot water and cooled properly. These cakes are very easily coated.
Index of Recipes
Pastry & Baking Charts
_______________________
Cake Recipes
Frosting, Buttercream,
Icings, Glazes
Cookies, Bars & Biscotti
Confections, Truffles, Candy
Pies, Tarts, Tartlets
Crusts, Shells, Bases
Quick & Yeast Breads
Desserts
Basic Recipes
Frozen, Ice Creams, Sorbet
What the...?
Savory Items for Tea Menus
Industry Recipes, Quantity Scale
Index of Recipes


Charts below are in:



Conversion to Metric
Conversion to US
Equivalency & Common Measures
General Oven Chart
Ice Cream Scoop Measures
Measures, Equivalents and Substitutions
General Can Sizing
Metric Units of Measure
Sugar Stages
Temperature Conversions