PEPPERMINTS, CHOCOLATE MINTS, Etc.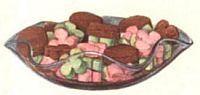 This recipe is from Chocolate and Cocoa Recipes, a little chocolate cookbook printed in 1909. Note it has an uncooked egg white, which shouldn't be given to young children, the elderly, or people with compromised immune systems.
White of 1 egg
2 tablespoonfuls of cold water
Sifted confectioner's sugar
1/2 teaspoonful of essence of peppermint or a few drops of oil of peppermint
1 or 2 squares of Baker's Chocolate
Green color paste
Pink color paste
Beat the egg on a plate, add the cold water and gradually work in sugar enough to make a firm paste. Divide the sugar paste into three parts. To one part add the peppermint and a very little of the green color paste. Take the paste from the jar with a wooden tooth pick, add but a little. Work and knead the mixture until the paste is evenly distributed throughout. Roll the candy into a sheet one-fourth an inch thick, then cut out into small rounds or other shape with any utensil that is convenient. Color the second part a very delicate pink, flavor with rose extract and cut out in the same manner as the first. To the last part add one or two squares of Baker's Chocolate, melted over hot water, and flavor with peppermint. Add also a little water, as the chocolate will make the mixture thick and crumbly. Begin by adding a tablespoonful of water, then add more if necessary, knead and cut these as the others.
Index of Recipes
Pastry & Baking Charts
_______________________
Cake Recipes
Frosting, Buttercream,
Icings, Glazes
Cookies, Bars & Biscotti
Confections, Truffles, Candy
Pies, Tarts, Tartlets
Crusts, Shells, Bases
Quick & Yeast Breads
Desserts
Basic Recipes
Frozen, Ice Creams, Sorbet
What the...?
Savory Items for Tea Menus
Industry Recipes, Quantity Scale
Index of Recipes


Charts below are in:



Conversion to Metric
Conversion to US
Equivalency & Common Measures
General Oven Chart
Ice Cream Scoop Measures
Measures, Equivalents and Substitutions
General Can Sizing
Metric Units of Measure
Sugar Stages
Temperature Conversions