Buttermilk Pie
4 eggs
1 cup sugar
2 1/2 T flour
1 stick whole butter, melted & cooled
1 1/2 cups buttermilk
1 tsp vanilla
Pinch nutmeg
1 pie crust
Preheat oven to 350 degrees.
Beat up eggs in a mixing bowl with sugar. Add in the flour. Stir in the melted butter, buttermilk and vanilla. Add in a pinch of nutmeg.
Pour into prepared pie crust and bake until center tests done.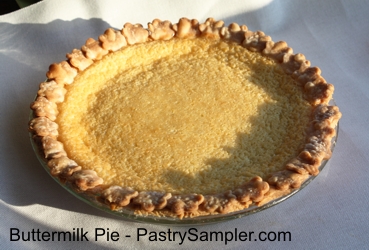 Copyright © 2004-2010 Beach Cuisine®, Inc.
All Rights Reserved.
Index of Recipes
Pastry & Baking Charts
_______________________
Cake Recipes
Frosting, Buttercream,
Icings, Glazes
Cookies, Bars & Biscotti
Confections, Truffles, Candy
Pies, Tarts, Tartlets
Crusts, Shells, Bases
Quick & Yeast Breads
Desserts
Basic Recipes
Frozen, Ice Creams, Sorbet
What the...?
Savory Items for Tea Menus
Industry Recipes, Quantity Scale
Index of Recipes


Charts below are in:



Conversion to Metric
Conversion to US
Equivalency & Common Measures
General Oven Chart
Ice Cream Scoop Measures
Measures, Equivalents and Substitutions
General Can Sizing
Metric Units of Measure
Sugar Stages
Temperature Conversions