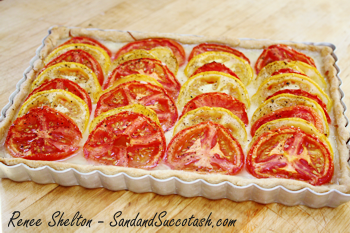 Savory Tomato Tart
This is a savory-style tart, made with tomatoes and mozzerella. Serve as a lunch, appetizer, or even dinner. Mozzerella cheese was used here but use any semi-soft cheese such as fontina or even Swiss if you like.
Pie crust, enough to line a 8" x 11" square tart mold
About 6 medium tomatoes, sliced (I used half yellow and half red tomatoes)
About 1 1/2 cups shredded mozzerella cheese
Kosher salt and freshly ground black pepper
Extra virgin olive oil for drizzling, optional
Line the tart mold with the pie crust, and press in the sides. Sprinkle the cheese evenly over the bottom of the tart pan. Evenly lay the sliced tomatoes over the top. Sprinkle with kosher salt and twist a few turns of fresh ground pepper over the top. Bake in a preheated 350 degree oven until the crust is browned, and the tomatoes are lightly browned, about 45 minutes (check after 35, depending on the thickness of the tart, it can bake up to an hour). Remove from oven and let stand for about 30 minutes or more. Lightly brush a little olive oil over the top before serving. This tart is fine made the day before.



Recipe from Renee Shelton. This was originally posted on my blog: SandandSuccotash.

Copyright © 2004-2010 Beach Cuisine®, Inc.
All Rights Reserved.



Index of Recipes
Pastry & Baking Charts
_______________________
Cake Recipes
Frosting, Buttercream,
Icings, Glazes
Cookies, Bars & Biscotti
Confections, Truffles, Candy
Pies, Tarts, Tartlets
Crusts, Shells, Bases
Quick & Yeast Breads
Desserts
Basic Recipes
Frozen, Ice Creams, Sorbet
What the...?
Savory Items for Tea Menus
Industry Recipes, Quantity Scale
Index of Recipes


Charts below are in:



Conversion to Metric
Conversion to US
Equivalency & Common Measures
General Oven Chart
Ice Cream Scoop Measures
Measures, Equivalents and Substitutions
General Can Sizing
Metric Units of Measure
Sugar Stages
Temperature Conversions