The Many Faces of the Buttercreams
What's in a buttercream?
By Renee Shelton
---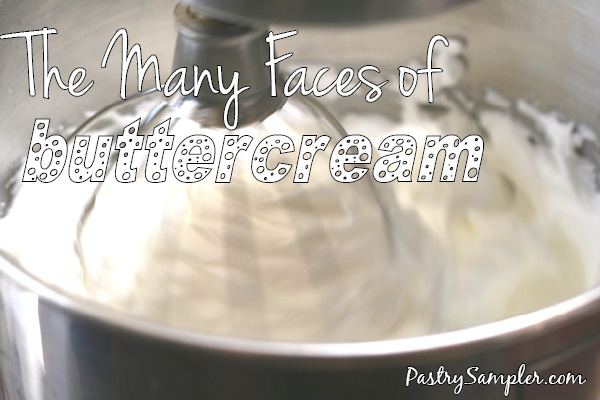 At it's most simple definition, buttercream is an icing with fat and sugar. Some recipes for buttercream contain eggs, such as those based with a meringue or a pâte á bombe (cooked yolks with sugar). Some contain nothing more than butter and/or shortening and powdered sugar. Most recipes in these cases will call for powdered sugar rather than granulated or superfine granulated; not only is it finer and will dissolve completely, but it can also act as an emulsifier for the butter or shortening.
Just about any buttercream recipe may be flavored with other ingredients to change the color/texture/flavor to suit your needs. Popular additions are melted chocolate, praline paste, strong coffee or Trablit, extracts and liqueurs, emulsions and purées, and ganaches and various nut pastes.
Buttercream Types
Of the many different variations and recipes one can find, typically they all can be classified in one of the following different kinds of buttercreams below.
Others may organize them differently, but I classify all buttercreams this way:
Meringue Based:

Italian Buttercream: A buttercream made with an Italian meringue: a cooked meringue made with a hot sugar syrup.
Swiss Buttercream: A buttercream made with a Swiss meringue: a meringue made from whites and sugar warmed together over a bain marie. This dissolves the sugar.

Yolk Based:

Pâte á bombe: Sometimes referred to as a French buttercream. A buttercream here is made with yolks and hot sugar syrup which cooks the yolks making them safe to eat.

Butter Based:

Here you will find basic recipes ranging from only butter and powdered sugar to the incorporation of other ingredients such as cream cheese, melted chocolate, cream, or non-fat milk powder. Sometimes shortening or an emulsified shortening is added for stability.

Shortening Based:

Sometimes referred to as Decorator's Icing or Decorator's Buttercream. While this buttercream can be used for icing a cake, it is used mainly for decoration (typically for things like roses and for piping borders and stiff edging). Shortening has a much higher melting point making it suitable for those decorations needing a firmer look or handling. Since shortening does have a higher melting point, it will not have the same mouth feel as the above buttercreams, and can be very waxy to eat. If this type of buttercream is used for the actual frosting for the cake, rather than strictly for decorating it, butter and/or a liquid will typically be added for a better mouth feel and flavor.
My favorite? I like to use Italian Buttercream for all wedding cakes and occasion cakes. It has a wonderfully smooth texture, it's not too sweet, and is neutral enough to add whatever flavor I need it to be. Other decorators prefer a French buttercream (pâte á bombe based) for it's rich flavor and color. And still others enjoy working with the butter-based ones for ease in preparation. I'm enclosing here many different recipes based on all of the above types, including my industry large-scale recipes for those that would like them. Sources are listed at the bottom.
Recipes for Different Buttercream Types
A note for the recipe ingredients and procedures: If not specified always use unsalted butter. Sift the powdered sugar first before mixing with the butter or shortening to remove any lumps. For best results, have all the ingredients at room temperature.
---
Italian Buttercream

Adapted from "Wedding Cakes You Can Make: Designing, Baking, and Decorating the Perfect Wedding Cake" by Dede Wilson, who in this book gives a very detailed description on how to make this buttercream. If you've never made this type of icing before, this is a great reference book to look to for guidance, and it gives help on how to "fix" buttercreams, and what to do if too cold or too warm. This recipe makes a wonderful buttercream with a smooth consistency, not too sweet and freezes well. This recipe is simplified: read her recipe for exacting details on cooking it.
1 1/4 cups plus 1/3 cup sugar
1/2 cup water (recipe lists 1/2 cup, I just 'eyeball' the amount)
8 large egg whites, at room temperature
1 teaspoon cream of tartar
1 1/2 lbs. (6 sticks) unsalted butter, cut into pats
Place the 1 1/4 cups sugar and the water in a saucepan. Stir to wet the sugar and bring to boil over medium heat and wash the sides of the pan. Place the whites in a grease-free mixing bowl and whip until frothy. Add in the cream of tartar and continue to whip until soft peaks form. Add in the 1/3 cup of the sugar. Continue whipping until stiff, glossy peaks form. Meanwhile, keep boiling the sugar syrup until the temperature reaches 248*F. When the syrup is ready, reduce mixing speed of the whites to medium and slowly pour in the hot syrup into the egg whites. Try not to get any of the syrup on the sides of the bowl or hard sugar balls may form in the meringue. Continue to whip until cooled, which may take up to 15 minutes. Add in the the pats of butter and whip until combined, smooth and the butter is incorporated.
_________________________
Italian Buttercream
This version is adapted from the Roux Brothers cookbook, "The Roux Brothers on Patisserie," a good cookbook for basic French pastry. The use of glucose with the sugar syrup helps to prevent sugar crystals from forming during boiling. Makes about 5 lbs.
1 cup plus 2 tablespoons water
3 cups sugar
1/2 cup glucose
9 egg whites
4 1/2 cups butter, room temperature
Place water, sugar and glucose in a heavy sugar pan. Stir until mixture boils, wash down sides with wet, clean pastry brush and insert candy thermometer. Boil until the temperature of the syrup reaches 110°C, then start beating the egg whites in a stand up electric mixer, until stiff. When sugar reaches 120°C remove from heat and put the speed of the egg whites to the lowest. Pour the syrup into the whipped whites in a slow, steady stream, trying not to get syrup on the wire whip or the edge of the bowl. Continue to beat the meringue until it is nearly cold, about 15 minutes. Begin beating in the butter, a little at a time, and continue beating until smooth.
_________________________
Italian Buttercream
This is the recipe I use in the kitchen. Industry recipe sized. Keeps well and is good for adding any number of flavors.
6 # 9 oz. granulated sugar
Water - as needed to cover sugar in pot
2 1/2 qts. egg whites
3 # 3 oz. granulated sugar
17 # unsalted butter, soft
Heat first sugar and water to 121°C. Add this to meringue that has been beaten to stiff peaks with second sugar. Add in butter, in chunks. Note: if pastry kitchen is very warm, use slightly cooler butter; if meringue is very cold before adding butter or if butter has not incorporated into meringue (large cold chunks still in buttercream) use a hand torch around stainless steel bowl to help melt product. Of course, only use torch as directed by manufacturer.
_________________________
Swiss Buttercream
Unknown source. It has been in my kitchen book forever. While measured in cups, it is an industry recipe.
4 cups whites
8 cups sugar
5 # unsalted butter
Combine sugar and whites in the same mixing bowl you'll be whipping the eggs in. Place over a bain marie or steam table and heat until the whites are warmed through and the sugar is completely dissolved. When stirring, avoid using whipping tools or action as the incorporation of air at this stage may prevent sugar from being dissolved. Attach to mixer and wipe the outside of bowl if it has water on it. Whip stiff, then add in the butter in parts until incorporated.
_________________________
French Buttercream
This buttercream recipe contains egg yolks and is adapted from "Professional Baking." While an industry recipe, scales down well for home use.
2 lb. sugar
8 oz. water
12 oz. egg yolks
2 1/2 lbs. butter
1/2 oz. vanilla
Bring the sugar and water to a boil, and continue to boil until 115°C. While the sugar is boiling, whip the yolks in a stand up mixer until they are thick and very light. When the sugar comes to temperature, remove from heat and slowly add in a stream to the whipping yolks, on a medium-low speed. Continue to whip until yolks are completely cooled. Mixture will be light and thick. While machine is running, add in the butter in chunks, but add it only as fast as can be absorbed into the mixture. Last, add in the vanilla.
_________________________
Buttercream Icing
This butter-based recipe is adapted from "Ateco Simplified Cake Decorating."
1/4 cup butter
Speck of salt (if needed)
2 cups sifted powdered sugar
3 tablespoons milk or light cream
1/4 teaspoon vanilla
Whip the butter until fluffy. Gradually add in 1 cup of the powdered sugar and reduce speed to low, add in the liquid, salt and flavoring. Last the rest of the powdered sugar. If firmer icing is needed, add in a bit more powdered sugar, if softer icing is needed, add in a bit more of the milk. Flavor as desired.
_________________________
White Chocolate Cream Cheese Buttercream
This recipe has butter, cream cheese and white chocolate, and is adapted from the classic book, "The Cake Bible," by Rose Levy Beranbaum. The original recipe contains no sugar, so add powdered sugar if you like it a little sweeter. Use quality white chocolate for best results. This recipe compliments carrot and spice cakes well.
9 oz. white chocolate, melted, cooled to room temperature
12 oz. cream cheese, softened
6 oz. unsalted butter, softened
1 1/2 T fresh squeezed lemon juice, or to taste
Beat cream cheese in mixing bowl until smooth. Gradually beat in the melted and cooled chocolate until incorporated. Add in the butter and lemon juice last, beating well until smooth.
_________________________
Buttery Cream Frosting
This recipe contains only shortening and is adapted from the Crisco brand shortening kitchens.
1/3 cup butter flavored shortening
4 cups powdered sugar
1 1/2 teaspoons vanilla
7 to 8 tablespoons milk
Cream shortening and add in powdered sugar. Add in the vanilla, and slowly add in enough milk, tablespoon by tablespoon, to reach desired consistency. Continue to beat frosting on high speed for about 5 minutes, or until the frosting is lightening and is very smooth.
_________________________
Buttercream Icing for Home Decorating
This recipe is adapted from Wilton "Figure Piping." This recipe contains a mixture of shortening and butter. Add more liquid if needing a smoother or softer consistency.
1/2 cup shortening
1/2 cup butter
2 tablespoons cream, milk or water
1 teaspoon clear vanilla
1 lb. powdered sugar, sifted
Soften shortening and butter. Mix in the rest until smooth using medium speed, adding in more liquid as needed to achieve desired consistency.
---
References used and Recipes cited:
Beranbaum, Rose Levy. The Cake Bible. New York: William, 1988.
"Buttery Cream Frosting." Online recipe. Crisco. February 3, 2005.
<http://www.crisco.com/scripts/display_recipe.asp?recipe_nbr=19810>
Gisslen, Wayne. Professional Baking. New York: John Wiley, 1985.
Montagné, Prosper. Larousse Gastronomique: The Encyclopedia of Food, Wine and Cookery. Sixth printing, 1965.
New York: Crown, 1961.
Recipes from the files of Renee Shelton.
Roux, Michel and Albert. The Roux Brothers on Patisserie: Pastries and Desserts from 3-Star Master Chefs. New York: Prentice, 1986.
Wilson, Dede. Wedding Cakes You Can Make: Designing, Baking, and Decorating the Perfect Wedding Cake. New York: Wiley, 2005
Wilton. Figure Piping: The Wilton Way. Wilton Enterprises, 1979.
Renee Sheltonon
---