How to Make Candied Orange/Lemon (Citrus) Zest or Peel
By Renee Shelton
---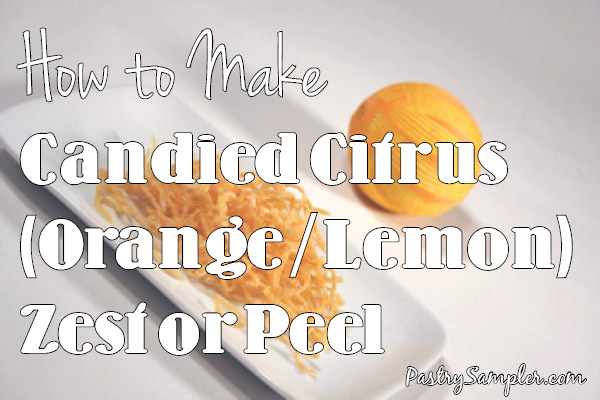 Candied orange zest/rind, in the simplest term, is the orange part of the orange peel that is boiled and candied in a heavy syrup. It is generally then taken from the syrup after boiling for an amount of time, drained, and placed in granulated sugar (sometimes powdered sugar) and tossed to coat. Some recipes call for leaving it in the syrup and chilling it, which makes the texture suitable for using it inside mousses and other fillings. By only removing the orange part of the rind (not the white part, or the pith) you can substantially reduce the amount of bitterness.
Tools to make this confection are special zesting tools that remove the orange part in very thin strips, or use a very sharp paring knife, carefully trimming off any white parts of the peel that have been cut off. If using a zester, no further action is required for decoration; if using a paring knife and trimming large strips of peel, you may cut the pieces into triangles, large rectangles, squares, thin strips, etc. or simply leave in large pieces.
After cutting the zest from the fruit, start the candying process by boiling it in a syrup. Candied oranges, limes, and lemons are all made in the same manner.
If candying grapefruit peels, additional cooking time in the syrup may be needed to soften the zest if large pieces are cut from thick skins. Scalding the peel in hot water before candying may help in remove any bitterness. Adding a little Grenadine Syrup to the grapefruit gives it a nice coloring, too.
I've included my recipe for candied orange zest (easy, can be done in less than an hour). Other recipes included are adapted from other books. Some are good for decorating cakes and desserts and some are good for internal garnish for cakes, and also baked and non-baked desserts. Try any of these: experiment with them and see what works best for you. The sources are at the bottom of this page for further reading.
Note: for candied recipes that are tossed in sugar, be sure to dry thoroughly before storing in an airtight container.
---
Renee's Candied Orange Zest
This candy can be used to garnish an unlimited amount of pastry and desserts. Use Navel oranges as these oranges have thicker peels and will give you thicker strands of zested orange rind.
Take three oranges and wash well; dry. Pour about one cup of granulated sugar in a cake pan or pie tin and set aside. Using a zesting tool, remove the orange part of the rind in long, thin strips starting at the top of the orange and with even pressure continue all the way to the bottom. Continue removing all the zest in strips. Rinse well in cool water and set aside. Boil one cup of sugar mixed with a half cup of water, and add in the orange zest. Reduce heat until it is very gently boiling and continue to cook until the orange zest starts to look translucent. Drain well in a fine mesh sieve (don't rinse with water) and immediately transfer to the dish with the sugar. Toss and separate each strand of zested orange rind so that each strip is completely coated with sugar. Add more granulated sugar for tossing if necessary. Let set for a few minutes and continue tossing. Let set another few minutes and toss again. Very gently remove from the sugar as needed for garnish. Can be used immediately or kept for up to a week in a tightly covered container.
_________________________
Julienne Candied Orange Peel
This version is similar to the one above, except it calls for tossing the cooked peel strips into powdered sugar and drying in a cool oven. Can be scaled up.
1 orange, thick skinned
1 cup water
1/2 cup sugar
1 cup or more of powdered sugar, sifted
Wash oranges and pat dry. Carefully peel the orange part of the oranges into large pieces. Cut the oranges into thin julienne size strips. Bring to boil the sugar and water, and add in the orange strips. Loosely cover the pan half way with the lid, and continue to lightly boil until the syrup has been reduced by about three quarters. Leave to cool in the pan. Sift the powdered sugar onto a cookie sheet in a thick layer (more than a cup may be needed). Remove the candied strips from the syrup and roll or toss in the powdered sugar. Dry in a cool oven. Store in a jar for up to three months.
_________________________
Candied Orange Peel
This recipe calls for scalding the peel in water three times before the candying process. This helps to remove any bitterness from the peel, some recipes omit this step, but if candying large pieces of the cut peel, this step also helps to soften the peel.
4 oranges, thick skinned
Sugar, equal to the weight of the peeled oranges
Water, just to cover the orange peel and sugar
Additional sugar for rolling
Peel the oranges with a sharp knife and cut into large strips, then trim to about about 1" by 1/4" wide. Place in a heavy saucepan and cover with cold water. Bring just to the boiling point and drain. Repeat twice (cover with cold water, bring just to the boiling point, drain). Add the sugar and cover with water. Bring to boil and reduce temperature to a low boil. Reduce mixture down until no syrup shows on bottom when pan is tipped. Spread immediately on a lightly buttered pan and separate with chopsticks or a fork. When slightly cooled, roll in granulated sugar to coat completely.
_________________________
Candied Zest
This calls for keeping the candy in the syrup, and refrigerating until ready to use. This is good for baking in cakes or using as a garnish when wanting a decoration not covered in sugar. Remove from the syrup and use as needed, pat dry if desired.
3 oranges, thick skinned
1 cup sugar
1 cup water
1 tablespoon corn syrup
Peel the oranges with a sharp knife; avoid any white part of the peel when doing so. Cut the peel into julienne strips. Place in a heavy saucepan of boiling water, reduce to simmer and cook for 15 minutes. Drain; rinse with cold water. Place in the same pot as it was cooked in and add in the sugar, water and corn syrup. Bring to boil stirring constantly, then stop stirring. Add in the zest and cover with a tight fitting lid. Reduce to a simmer and cook over low heat for 15 minutes without disturbing. Remove from heat and allow to cool in pan covered. Refrigerate the candy in syrup in an airtight container. Store up to a month.
_________________________
Écorce d'Orange Confite
This is a technical recipe, adapted from the pages of the 1965 sixth printing version of the Larousse Gastronomique. This recipe can be adjusted to any quantity, and to the desired amount of crystallization or candying.
Orange peel
Sugar syrup, prepared (ratio being 1 1/4 cups water to 2 lbs. sugar)
Remove all of the white pith from the orange peel, which has been cut into large strips. Blanch the peel and place in sugar syrup. Cover and leave in the syrup for 24 hours. Drain the peel and cook the syrup to 215°F. Add in the rind and let cool, leaving in the syrup for 24 hours. Repeat the draining, cooking of the syrup and cooling the peel in the hot, boiled syrup several times until you achieve your desired level of crystallization.
---
References used:
Recipes from the files of Renee Shelton.
Ingram, Christine. Cooking Ingredients: The ultimate photographic reference guide for cooks and food lovers.
New York: Hermes, 2002.
Berolzheimer, Ruth, Ed. The Candy Book: Everything you need to know about making... New York: Consolidated, 1950.
Beranbaum, Rose Levy. The Cake Bible. New York: William, 1988.
Montagné, Prosper. Larousse Gastronomique: The Encyclopedia of Food, Wine and Cookery. Sixth printing, 1965.
New York: Crown, 1961.
Renee Sheltonon
---