Cannolis are an Italian specialty: a crisp tube filled with a sweetened ricotta cream. Mousses and sweetened whipped cream can also be used for the filling. They are made with a dough usually containing a wine, sweet or otherwise, and rolled around a cylinder to be fried in hot oil.

Cannolis can be tube shaped or they can be horn or cone shaped, depending on the molds used for frying. They can be large or very small finger sized.

Cannolis, once they are fried, will keep for about a week in a tightly covered container. They can be 'refreshed' by placing in a 350°F oven for a couple of minutes to crisp again, but they are best served fresh.
Almost every recipe of cannoli dough will contain a wine inside of it. This provides not only flavor, and sometimes color and aroma, but gives the necessary acid to help with softening gluten. This dough will be quite stiff and requires kneading for development. It helps to rest the dough before rolling it out. When rolling it out, it is important to roll it out thinly, as when it isn't, it will end up being a thick, greasy fried tube, instead of the light holder of filling it's meant to be. Besides, as they are frying, they tend to puff up a bit and the outside will blister to it characteristic surface.
The forms used for frying can be plain tube shaped in a variety of diameters, or in a cone or horn shaped, giving it a 'cup' shape that is great for standing on end to eat and to serve stacked with others. Some tubes/molds for cannolis have even diameters from one end to the other, and others can be found that are very slightly larger/smaller at the opposite ends giving it only a very hint to a cone shape.
The traditional filling is a sweetened ricotta cheese filling sometimes mixed with candied orange zest or citron, chopped pistachios, grated chocolate, or drizzled with a variety of extracts or flavorings such a fortified wine and liqueurs. The ends may be decorated with what the filling has to give color and texture, such as dipping the ends in chopped pistachios if pistachios were used for the filling. The filling may also be left plain and the ends used for decoration. While a sweetened ricotta is traditionally used, any mousse may be used, like dark or white chocolate or a fresh berry, or a simple sweetened whipped cream filling may be used.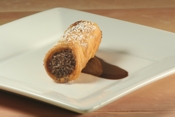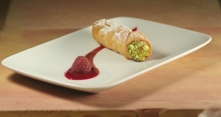 My tips/notes:
Always fill á la minute, right before service, to keep the shells crisps.
My favorite filling is simply sweetened ricotta: pick out a ricotta cheese and sweeten to taste with powdered sugar. If the cheese is too soft, drain overnight to firm up.
You will find cannoli dough with a varying list of ingredients, from sweet wine to dry white, eggs or none, and melted butter or softened butter. Each will play a role in the finished product, and read the procedures well as some will need more kneading than others. The advantage to having eggs in the dough is that it may be easier to roll out; the advantage to having no eggs in the dough is that it can sit to be rested at room temperature.
Cannolis will keep for about a week if kept tightly covered. They are best served fresh.
When rolling them, it will help to roll them around forms that are very lightly oiled (I brush my hands with some oil and rub the molds with that thin layer from my hands). This will help them slide off after frying. Only the first batch needs to be oiled as subsequent batches will already have a thin layer from frying.
Since the dough will become tough if rerolled, roll out thinly (usual recipes call for 1/16" thick) and cut out as many as you can using the right sized cutter or sharp knife. You may need to cut the dough in half to roll out if the dough is especially strong. After cutting out the shapes, use a rolling pin to slightly make an oval shape, if round, before attaching them to the cannoli forms.
Cannoli dough can be cut into circles for forming around the molds, or into squares. Each shape will give a different end look for the cannoli.
Seal them with a bit of egg wash: fold over one end and using a finger rub a small amount of beaten egg on the part that will overlap. Press to seal.
When removing from the hot oil after frying, using tongs to assist you, carefully lift to paper or cloth toweling. Let cool only slightly and gently remove from the molds. If they are left to cool completely on the forms, they may be difficult to remove, and they can become brittle and break apart.
Use a thermometer if frying them without a fryer. This will help you self regulate the fire (heat source) to keep the oil at the optimum temperature as required by the individual recipe.
The scraps of cannoli dough are great for frying up and sprinkling with powdered sugar; good for when children desperately want to taste one of the finished unfilled cannolis that you have reserved for your event (ok, for the makers as well...)
Below are some recipes for cannoli dough to try out.
---
Cannoli Dough (no egg version)
This is my favorite recipe for cannolis, and is one I created. Creates a nicely colored dough, and fairs well with a multitude of fillings. If making ahead, simply wrap after kneading, place in cooler, and allow to come to room temperature before rolling.
1 1/2 c flour
1 1/2 T sugar
1/4 t salt
1 1/2 T unsalted butter, melted
7 T Marsala (no substitutions)
Place flour in a bowl and sprinkle with sugar and salt. Stir in the butter and the Marsala until a dough forms. Transfer to a work surface and knead the dough until smooth, about 5 to 10 minutes. Let rest on counter for about a half an hour before rolling out. This dough also can be chilled overnight for advance preparation; simply allow to come to room temperature before rolling. When ready for rolling, cut dough in half and roll out very thin. Cut into desired sized shapes and roll around cannoli forms. Fry a few at a time in hot oil (350°F) until browned and done. Carefully remove from the oil and allow to cool slightly before removing from the molds. Cool completely and use immediately, or allow to cool and wrap tightly for later use.
_________________________
Cannoli Dough (Sauternes or white wine recipe)
This recipe is adapted from the Ateco Cannoli recipe. It contains eggs, firm butter and Sauternes or similar white wine. Visit these links for a description between Sauternes and Sauterne, from Wikipedia.
1 3/4 c flour
2 T sugar
1/2 t salt
1 egg, beaten
2 T firm butter, cut into small pieces
1/4 c Sauternes, Sauterne or similar white wine
Sift flour with sugar and salt into a bowl. Add in egg and butter. Mix, adding in the wine a little at a time until a dough forms. Form into a ball and cover for 15 minutes. Roll out dough on a lightly floured surface until thin and cut out into desired sizes for the cannoli molds. Wrap around the molds and seal up. Fry in 350°F oil a few at a time until golden, and remove carefully to toweling. Cool slightly and slip the cannolis from the molds. Allow to cool completely and fill as desired.
_________________________
Cannoli Dough (simple version)
This dough contains only three ingredients: flour, Marsala and a bit of sugar. After kneading, let rest for about 2 hours. Adapted from 'Cannoli alla Siciliana' recipe from Pies and Pastries from The Good Cook series.
2 c flour, sifted
1/4 c Marsala
1 T sugar
Pinch of salt
With the flour, make a mound on a work surface with a well in the center. Sprinkle the sugar and salt and add in the wine. Knead well for about 15 minutes until the dough is smooth. Lightly wrap the kneaded ball with a damp cloth and let the dough rest for two hours at room temperature. Roll out thinly, cut out shapes, and roll around the cannoli forms. Deep fry in hot oil, 390°F, a few at a time and remove when golden brown. Remove and drain on toweling, allow to cool slightly and carefully remove the cannoli forms. Allow to cool completely and fill as desired.
---
References used:
Editors of Time Life Books. Pies & Pastries. The Good Cook Techniques & Recipes. Alexandria: Time Life, 1981.
Recipes from the files of Renee Shelton.
Ateco recipe adapted from back of the Ateco Cannoli Forms.
"Sauternes (wine)." Wikipedia, The Free Encyclopedia. 30 Dec 2006, 02:04 UTC. Wikimedia Foundation,
Inc. Site accessed 16 Feb 2007. <http://en.wikipedia.org/w/index.php?title=Sauternes_%28wine%29&oldid=97254564>
"Sauterne." Wikipedia, The Free Encyclopedia. 6 Sep 2006, 09:26 UTC. Wikimedia Foundation, Inc.
Site accessed 16 Feb 2007 <http://en.wikipedia.org/w/index.php?title=Sauterne&oldid=74102990>.