Cornstarch and Cornflour
By Renee Shelton
---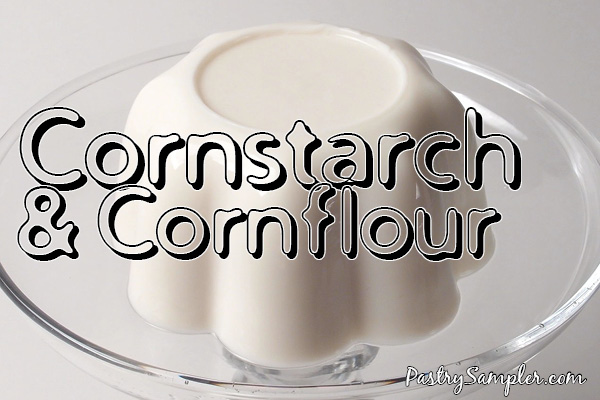 Cornstach is the powder resulting from the according to Cooking Ingredients by Christine Ingram, is the "fine white powder [made from] grinding the white heart of the corn kernel." Argo Starch describes cornstarch as "a natural, odorless carbohydrate that is found in the corn kernel."
It cooks to an opaque, translucent in color. Other names for cornstarch: cornflour (UK) and maize starch.
Cornstarch as an Ingredient
Cornstarch is used as a thickening agent in cooking and an anti-caking agent in food products, such as when mixed with powdered sugar. Cornstarch, when cooked, sets up firm when cooled making it ideal for foods needing to hold their shape.
Guidelines for Cooking With Cornstarch
Fruit Pies: Use 1 to 1 1/2 tablespoons of cornstach for every 6 cups of fruit. Be sure to mix the cornstarch and the sugar well before adding it with the fruit to avoid lumping.
Acidic ingredients: (such as lemon juice) and high amounts of sugar has a thinning effect on anything being thickened with cornstarch. When possible, add the acidic ingredients or part of the sugar after the cornstach has thickened the product, or add in additional cornstarch.
Overcooking: Overcooking a product made with cornstarch can break down its thickening properties..
Slurry: is cornstarch mixed with a liquid. This is then used to thicken other liquids and sauces when heated.
Old Cornstarch: Cornstarch loses its quality as it ages. According to Cookwise by Shirley O. Corriher, "If you are using cornstarch that has been on the shelf for a couple of years, you may need to use more of it to thicken than the recipe indicates." As with other staples and bakery ingredients, keep sealed in an airtight container and use the FIFO system (first in first out), using the old up first before using the fresh.
Blancmange
Blancmange (or Blanc Mange or Blanc-Manger) is a tradional white pudding using cornstarch. Generally, the cooked pudding is poured into molds to set, then unmolded for service. Blancmange can also use other thickeners, such as gelatin.
According to Guide to Modern Cooking, the standard for a good blanc mange is:
---
Recipes Using Cornstarch
Blanc Mange, English Style
The French-style blancmange molded pudding is tradionally made with sweet and bitter almonds and sometimes thickened with gelatin. This recipe uses cornstarch as a thickener and almond extract for a flavoring, and is adapted from "Professional Cooking". This recipe yields 2 1/2 quarts.
2000ml milk (4 lbs)
375g sugar (12 oz)
3g salt (1/2 tsp)
250g cornstarch (8 oz)
500ml cold milk (1 lb)
15ml almond extract (1/2 oz)
Combine the milk, sugar, and salt in large saucepan. Bring to simmer. While heating, mix the cornstarch with the second amount of milk (which is cold). When the heated milk is hot, temper in about 1 cup of the hot mixture to the cold milk/cornstarch mixture. Pour this mixture back into the hot milk, and stir over low heat until it comes to a boil. Remove from heat and add in the flavoring. Pour into molds about 4 oz in size. Cool until chilled and firm, then unmold for service.
_________________________
Blanc Mange (Vanilla Cornstarch Pudding)
This is a smaller, home version of the above, and is poured into molds for unmolding. Adapted from a 1964 version of "Guide to Modern Meals." It excludes the addition of uncooked, beaten egg whites.
1/4 cup sugar
3 tablespoons cornstarch
1/4 teaspoon salt
2 cup milk
1/2 teaspoon vanilla
Whisk the sugar, cornstarch, salt, and milk together well and place in a saucepan. Over medium heat, stir constantly and bring to a boil. Transfer to the top of a double boiler and cook gently for 10 minutes. Add in the vanilla, and then pour into desired molds that have been rinsed with cold water and drained. Cool to room temperature, then place in refrigerator until firm. Unmold for service.
_________________________
Sandcastles
These miniature loaves have a fine, sandy texture thanks to the high amount of cornstarch. Adapted from "Classic Cakes Tempting Tortes."
3/4 cup unsalted butter, melted and cooled, plus more for greasing miniature loaf pans
1 cup sugar, separated
3 eggs
1/4 teaspoon vanilla
1 teaspoon finely grated lemon rind or 1/4 teaspoon lemon extract
1 cup self-rising flour
1 cup cornstarch
1/16 teaspoon salt
Preheat oven to 325°F. Butter 8 miniature loaf pans and line the bottoms with parchment paper.
Remove 4 teaspoons of the measured cup of sugar, and place in a separate bowl for garnish.
Place the remaining sugar with the eggs, vanilla and grated lemon rind in a bowl of a stand up mixer set over simmering water. Stir until the mixture is warm and the sugar is dissolved. Place the bowl in the stand up mixture and attach a whip. Whip on medium high speed until light, fluffy, and pale in color, about 5 to 7 minutes.
Sift the flour, cornstarch and salt together. Fold the flour into the eggs, one cup at a time, and then add in the butter in two parts, stirring until thoroughly incorporated. Divide the batter among the prepared pans. Sprinkle each with a little of the reserved 4 teaspoons sugar for garnish.
Bake until golden and firm to the touch, about 25 minutes. Cool slightly, then unmold to cooling racks.
_________________________
Pear Pie
Use ripe pears for this recipe. Below is a recipe for a pie crust using eggs and baking powder. Adapted from an old community cookbook.
For Pie Filling:
5 ripe pears, peeled, cored, and sliced
3/4 cup sugar
1 tablespoon cornstarch
1 teaspoon cinnamon
1 teaspoon vanilla
For Baking Powder Pie Crust:
3/4 cup sugar
1/2 cup softened butter
Pinch of salt
2 eggs
1 cup milk
2 teaspoons baking powder
3 cups flour
For Pie:
Preheat oven to 350° F. Mix the sugar, cornstarch, and cinnamon together. Toss with pears and vanilla. Fill the pie pan lined with unbaked pie crust shell. Place strips of the pie crust over the top to form a lattice crust. Bake about 30 to 40 minutes until the crust is browned and the filling is set.
For Pie Crust:
Mix sugar, butter, and salt. Add in the eggs and milk and mix until thoroughly combined. Add in the dry ingredients; dough will be soft. Roll out on floured board to desired size.
_________________________
Algériens
These powdered sugar-dusted cake squares use cornstarch in the batter, and something called 'TPT.' For those unfamiliar with the French term tant pour tant, it is an almond and sugar powder made with blanched almonds and powdered sugar. To make the almond and sugar powder, place the nuts with about half of the powdered sugar in a food processor. Grind until fine then pass through a sifter/sieve. Grind the almonds that that did not pass through the the sieve with the remaining sugar, then place all of this with the sifted almond sugar powder in a bowl. Break up any caking that has occured. The recipe for both the almond sugar powder (TPT) and the cookie below are from the reference cookbook, "The French Cookie Book."
5 tablespoons butter, unsalted
6 oz TPT (3 oz blanched almonds with 3 oz powdered sugar, see above for preparation)
2 eggs, separated, room temperature
3 tablespoons orange juice
1 teaspoon lemon juice
1/8 teaspoon cream of tartar
2 1/2 teaspoons superfine sugar
1/4 cup cornstarch
Extra powedered sugar for decoration
Preheat oven to 425°F. Grease a 8" square pan and line with parchment. Butter the parchment paper.

Beat butter with a paddle in a stand up mixer until pale. Add in the almond sugar powder mixture (the TPT) and beat until light. Add in the yolks. Switch to a whip attachment and mix in the juices.
In a separate bowl, whip the whites with the cream of tartar until stiff, then add in the 2 1/2 t superfine sugar. Whip a couple of minutes more to incorporate the sugar. Remove the bowl with the creamed butter mixture from the mixer and sift the cornstarch over the batter. Add about a third of the meringue and mix quickly by hand to incorporate. After all is mixed, gently fold in the remaining egg whites. Turn batter into the prepared pan and smooth the surface. Bake in preheated oven until lightly brown, about 14 to 18 minutes. Remove from oven when done, and slide a small metal spatula around the sides to loosen. Unmold the pan onto a cooling rack, and carefully peel off the parchment paper. Replace the paper and turn over. Let cool.
To serve: trim sides, cut into small squares, and dust with powdered sugar.
---
References used:
Corriher, Shirley O. Cookwise: the hows and whys of successful cooking. New York: William, 1997.
Gisslen, Wayne. Professional Baking. New York: John Wiley, 1985.
Healy, Bruce. The French Cookie Book. New York: William, 1994.
Ingram, Christine. Cooking Ingredients: The ultimate photographic reference guide for cooks and food lovers.
New York: Hermes, 2002.
Joachim, David. Brilliant Food Tips and Cooking Tricks. US: Rodale, 2001.
Montagné, Prosper. Larousse Gastronomique: The Encyclopedia of Food, Wine and Cookery. Sixth printing, 1965.
New York: Crown, 1961.
Suthering, Jane. Classic Cakes Tempting Tortes. Santa Rosa: Cole, 1993.
Shank, Dorothy E., Natalie K. Fitch, and Pauline A. Chapman. Guide to Modern Meals. St. Louis: McGraw, 1964.
Twelfth Edition Cook Book Committee. Fredericksburg Home Kitchen Cook Book. 12th Ed.
Fredericksburg: Fredericksburg PTA, 1978.
Renee Sheltonon
---