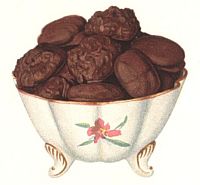 This recipe is from Chocolate and Cocoa Recipes, a little chocolate cookbook printed in 1909. Nothing more than chocolate dipped crackers made fancy.
Oyster crackers, salted preferred, fine-chopped, roasted peanuts or raisins or 3 or 4 basket figs or a little French fruit cut in very small bits,
1/2 a pound or more of Baker's "Dot" Chocolate.
Select fresh-baked crackers free from crumbs. Dip in "Dot" Chocolate [melted], and dispose on oil cloth or waxed paper. For a change add figs or other fruit, cut very fine, or chopped nuts to the chocolate ready for dipping.
Index of Recipes
Pastry & Baking Charts
_______________________
Cake Recipes
Frosting, Buttercream,
Icings, Glazes
Cookies, Bars & Biscotti
Confections, Truffles, Candy
Pies, Tarts, Tartlets
Crusts, Shells, Bases
Quick & Yeast Breads
Desserts
Basic Recipes
Frozen, Ice Creams, Sorbet
What the...?
Savory Items for Tea Menus
Industry Recipes, Quantity Scale
Index of Recipes


Charts below are in:



Conversion to Metric
Conversion to US
Equivalency & Common Measures
General Oven Chart
Ice Cream Scoop Measures
Measures, Equivalents and Substitutions
General Can Sizing
Metric Units of Measure
Sugar Stages
Temperature Conversions