Ribbon Caramels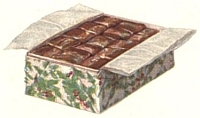 This recipe is from Chocolate and Cocoa Recipes, a little chocolate cookbook printed in 1909.
CHOCOLATE LAYERS
1 1/4 cups of granulated sugar
1/2 cup of glucose (pure corn syrup) scant measure
1/4 cup of butter
1/16 teaspoonful of cream of tartar
1 1/4 cups of rich milk
1 1/4 squares of Baker's Premium Chocolate
1 teaspoonful of vanilla extract
WHITE LAYER
2/3 a cup of granulated sugar
1/4 (scant) a cup of water
1 cup, less one tablespoonful, of glucose (pure corn syrup)
1/3 a pound of dessicated cocoanut
Put the sugar, glucose, butter, cream of tartar and the fourth a cup of milk over the fire, stir until the mixture boils, then very gradually stir in the rest of the milk. Let cook, stirring occasionally, to 248° F., or until, when tested in water or on a cold marble, a pretty firm ball may be formed. Add the chocolate and vanilla, mix thoroughly and turn into two well-buttered shallow pans. For the white layer, put the sugar, water and glucose over the fire, stir until boiling, then add the cocoanut and stir occasionally until a soft ball may be formed when a little of the mixture is dropped upon a cold marble. Put this mixture over the fire, to dissolve the sugar, but do not let it begin to boil until the chocolate layers are turned into the pans. When the white mixture is ready, turn enough of it onto one of the chocolate layers to make a layer about one-third an inch thick. Have the other chocolate layer cooled, by standing in cold water; remove it from the pan and dispose above the cocoanut layer. Let stand until cold and firm, then cut in cubes; wrap each cube in waxed paper.
Index of Recipes
Pastry & Baking Charts
_______________________
Cake Recipes
Frosting, Buttercream,
Icings, Glazes
Cookies, Bars & Biscotti
Confections, Truffles, Candy
Pies, Tarts, Tartlets
Crusts, Shells, Bases
Quick & Yeast Breads
Desserts
Basic Recipes
Frozen, Ice Creams, Sorbet
What the...?
Savory Items for Tea Menus
Industry Recipes, Quantity Scale
Index of Recipes


Charts below are in:



Conversion to Metric
Conversion to US
Equivalency & Common Measures
General Oven Chart
Ice Cream Scoop Measures
Measures, Equivalents and Substitutions
General Can Sizing
Metric Units of Measure
Sugar Stages
Temperature Conversions