Chocolate Coated Stuffed Dates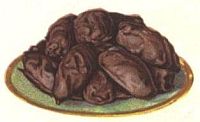 This recipe is from Chocolate and Cocoa Recipes, a little chocolate cookbook printed in 1909.
Cut choice dates open on one side and remove the seeds. Fill the open space in the dates with a strip of preserved ginger or pineapple, chopped nuts or chopped nuts mixed with white or chocolate fondant; press the dates into a compact form to keep in the filling, then dip them, one by one, in "Dot" Chocolate.
Index of Recipes
Pastry & Baking Charts
_______________________
Cake Recipes
Frosting, Buttercream,
Icings, Glazes
Cookies, Bars & Biscotti
Confections, Truffles, Candy
Pies, Tarts, Tartlets
Crusts, Shells, Bases
Quick & Yeast Breads
Desserts
Basic Recipes
Frozen, Ice Creams, Sorbet
What the...?
Savory Items for Tea Menus
Industry Recipes, Quantity Scale
Index of Recipes


Charts below are in:



Conversion to Metric
Conversion to US
Equivalency & Common Measures
General Oven Chart
Ice Cream Scoop Measures
Measures, Equivalents and Substitutions
General Can Sizing
Metric Units of Measure
Sugar Stages
Temperature Conversions