Surprise Chocolate Creams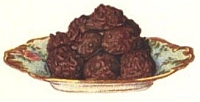 This recipe is from Chocolate and Cocoa Recipes, a little chocolate cookbook printed in 1909.
Fondant [see recipe below]
Candied or Maraschino cherries
Flavoring of almond or vanilla
Chopped peanuts
1/2 a pound of Baker's "Dot" Chocolate
Melt the fondant over hot water and add the flavoring. Put a bit of cherry in the bottom of each starch impression, then turn in the melted fondant, to fill the impressions and have them level on the top. Let the chocolate, broken in bits, be melted over warm water, then add as many chopped peanuts as can be well stirred into it; let cool to about 80° F. and in it drop the creams, one at a time; as coated dispose them on table oil cloth or waxed paper.
FONDANT FOR SOFT CHOCOLATE CREAMS
2 ½ cups of sugar,
1/3 a cup of glucose (pure corn syrup),
1 cup of water.
Put the sugar, glucose and water over the fire and stir until boiling, then wash down the sides of the saucepan, cover and finish cooking as in making ordinary fondant. Let cook to 238° F. Turn the syrup onto a damp marble or platter and before it becomes cold turn to a cream with a wooden spatula. When the fondant begins to stiffen, scrape at once into a bowl and cover with a damp cloth, but do not let the cloth touch the fondant.
Index of Recipes
Pastry & Baking Charts
_______________________
Cake Recipes
Frosting, Buttercream,
Icings, Glazes
Cookies, Bars & Biscotti
Confections, Truffles, Candy
Pies, Tarts, Tartlets
Crusts, Shells, Bases
Quick & Yeast Breads
Desserts
Basic Recipes
Frozen, Ice Creams, Sorbet
What the...?
Savory Items for Tea Menus
Industry Recipes, Quantity Scale
Index of Recipes


Charts below are in:



Conversion to Metric
Conversion to US
Equivalency & Common Measures
General Oven Chart
Ice Cream Scoop Measures
Measures, Equivalents and Substitutions
General Can Sizing
Metric Units of Measure
Sugar Stages
Temperature Conversions