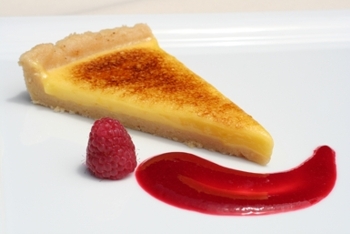 Caramelized Lemon Tart with Shortbread Butter Crust
This recipe is for an 11 inch fluted tart pan.
Crust:
2 3/4 c packed shortbread cookie crumbs (ground in food processor)
8 T unsalted butter, melted
1/4 c powdered sugar
Filling:
2 eggs
3 yolks
3/4 c sugar
1/2 c freshly squeezed lemon juice
2 t finely chopped lemon peel
1/2 c unsalted butter, cut in tablespoons
Granulated sugar for caramelizing
For the crust: Mix the crumbs, butter and sugar until combined. Pour mixture on the bottom of the tart pan. Start by pressing on the bottom to firmly pack and then work up the sides. Press until there is an even layer of crust on the bottom and sides of the tart pan. Chill; reserve.
For the filling: Place eggs, yolks, sugar, lemon juice, and chopped lemon peel in a large stainless steel mixing bowl set over simmering water. Whisk with a stainless steel whip until thickened and light. Mixture will be very hot; be careful not to overcook. Remove from heat and stir with a wooden spoon for a couple of minutes. Slowly add in the butter pat by pat, stirring a pat until it is melted before adding in another pat. Cool to room temperature, covered and stirring occasionally, then pour into reserved crust. Using an offset spatula, spread until even and cover the top with plastic film. Chill until firm, at least an hour or two.
For decoration, you can cut slice into individual portions and caramelize on the individual plate, or caramelize the entire tart and bring to the table for service. For caramelizing: sprinkle an even layer of granulated sugar over the surface. With a flame torch, wave back and forth over surface until the sugar is caramelized. Allow to cool to a crisp caramel before serving.
Recipe from Renee Shelton.
Copyright © 2004-2010 Beach Cuisine®, Inc.
All Rights Reserved.
Index of Recipes
Pastry & Baking Charts
_______________________
Cake Recipes
Frosting, Buttercream,
Icings, Glazes
Cookies, Bars & Biscotti
Confections, Truffles, Candy
Pies, Tarts, Tartlets
Crusts, Shells, Bases
Quick & Yeast Breads
Desserts
Basic Recipes
Frozen, Ice Creams, Sorbet
What the...?
Savory Items for Tea Menus
Industry Recipes, Quantity Scale
Index of Recipes


Charts below are in:



Conversion to Metric
Conversion to US
Equivalency & Common Measures
General Oven Chart
Ice Cream Scoop Measures
Measures, Equivalents and Substitutions
General Can Sizing
Metric Units of Measure
Sugar Stages
Temperature Conversions