Wilton

Place an Order
Manufacturer's Website
Minimum Order: $200.00 US
Wilton has a wide selection of cake decorating tools and baking equipment. They produce a large number of novelty character pans making shaped birthday cakes easy and recognizable. Their wedding and party favor kits and supplies make wedding and shower party favors a breeze to make, and have a number of seasonal molds and tools that are regularly updated. While Wilton manufacturers and sells a great number of unique novelty pieces, they also retire older ones, making some pans and tools collectors items. Since Wilton is so popular in craft stores, this makes it easy and economical for individuals taking a Wilton class to pool orders together for all supplies needed for a particular cake decorating class. We offer an automatic 5% off retail price through our service.
Ordering:
Price Sheet - Coming soon. Fill out your bid sheet for the most current pricing. We will include any discounts available for you.
Individual Items - Many items can be found on our site for bakers and pastry chefs - including ALL of their pastry tips - PastrySampler.com, and selected items may be available for a discounted shipping rate from our Ebay or Etsy stores. Etsy has handcrafted pastry themed t-shirts and pastry tips, and Ebay has overstocks.
Specialized Products - Wilton specializes in beginning to advanced cake decorating tools and equipment.
Company Equipment List - Give us an email if you have a question on the lastest items.
Place an Order - Visit our order page for how to place an order, or our FAQs regarding any general questions about shipping.
Minimum Amount - Order anything from their catalog, minimum order is $200.00 US, for U.S. customers only. Please email for international orders.
Shipping Times - Times will depending on seasonal postal fluctuations and where you are located.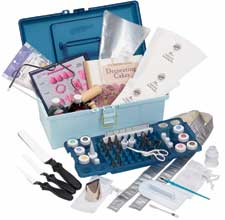 Copyright © 2004-2011 Beach Cuisine®, Inc.
All Rights Reserved.
Index of Recipes
Pastry & Baking Charts
_______________________
Cake Recipes
Frosting, Buttercream,
Icings, Glazes
Cookies, Bars & Biscotti
Confections, Truffles, Candy
Pies, Tarts, Tartlets
Crusts, Shells, Bases
Quick & Yeast Breads
Desserts
Basic Recipes
Frozen, Ice Creams, Sorbet
What the...?
Savory Items for Tea Menus
Industry Recipes, Quantity Scale
Index of Recipes


Charts below are in:



Conversion to Metric
Conversion to US
Equivalency & Common Measures
General Oven Chart
Ice Cream Scoop Measures
Measures, Equivalents and Substitutions
General Can Sizing
Metric Units of Measure
Sugar Stages
Temperature Conversions